Our Elk Hunts are done north of Las Vegas New Mexico on historic private land that I would consider a hunters dream and a animals sanctuary.
We have been 75% successful with are rifle hunters hunting for bulls and 100%with our cow elk hunts,and are 50% successful with Archery hunts. We stay In Las Vegas at a hotel and drive to the ranch to hunt it's about a 20 minute drive. This Elk hunt puts the hunter in a category of the elite, being able to hunt elk in the west on a private ranch with no high fences, and hunting one of the most revered trophies of North America. Weather you're a rifle hunter or a archery hunter the feeling you get when you see one of the animals gets your heart pounding and is hard to beat and harder to forget. General terrain of the ranch is creek valleys with cedar and pine canyon drainages that feed into the main valley of old cottonwood stands, the draws feed out of the valley elevating upward to open up on top high prairie grasslands. The terrain offers a wide variety of hunting methods which would allow a wide variety of hunter physical abilities from a hunter that likes to care up the mountain or a less physical hunter that needs more horizontal ground to hike on.
Space is limited so book your hunts early as of now were taking 2 rifle hunters bull elk hunters and 2 bull elk archery hunters. We have been getting bulls from the smallest at 300 to the biggest at 400. We have about 8 cow elk hunts for the ranch and also have the ability to access other ranches in the are for cow elk hunts too. Let us help you accomplish your elk hunting needs.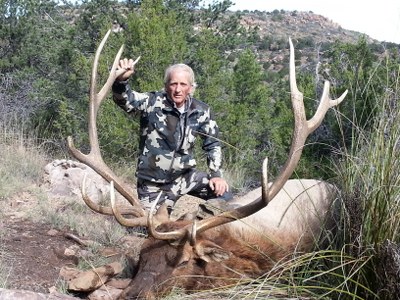 Archery Hunts 5 days Sept 1 - 22 (must pick 5 consecutive days)
Rifle Hunts Oct 1 - Dec 31 (must pick 5 consecutive days)
Hunt Cost $6500.00 guide 1x1 Lodging, Meals, Trophy Care included NOT Included hunting License $550.00 bulls over 375 gross will have a 1500.00 trophy fee added on.
Cow Hunts are available too please call on availability guided hunt 1400.00 We like to do the cow elk hunts late November through the end of January.
These are some of the great Elk that we have taken with our hunters want one? Call Me!