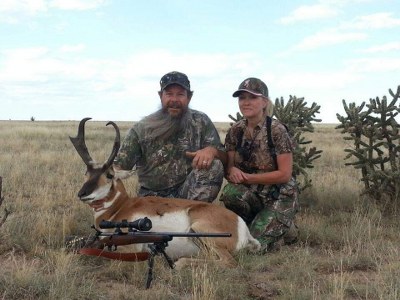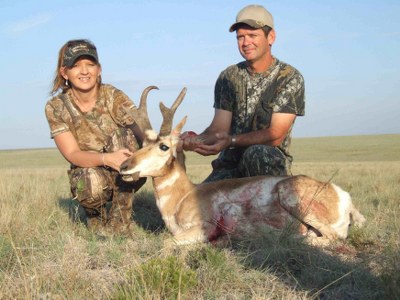 Our pronghorn antelope is our signature hunt. We take pride in producing high quality pronghorn antelope through an extensive relationship with the ranches we have leased. I am constantly searching for the best ranches with the best genetic possibilities and nutritional environments. Currently, the track record we have on our ranches is excellent with average horn lengths of 15 ½ and B&C scores of 78. This is an average not everyone will get a record book B&C but, you will have ample opportunity for high quality. I do my best to fit every hunter with the best opportunity for what they are looking for.
Our New Mexico antelope hunts are done from 4x4 vehicles while glassing. Some spot and stalking is done. We ask our hunters to be proficient in shooting at distances of 200-400 yards, but a majority of the shots are between 100-150 yards. Your guide is experienced in judging quality and distance so listen to him. If you have any experience in judging antelope, you will know that they are one of the hardest animals to judge on the hoof.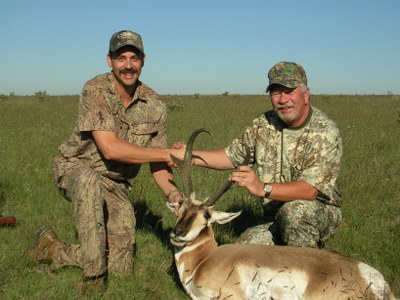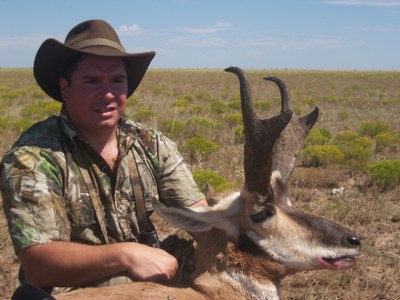 I have a great Taxidermist in camp that can cape and mount your trophy for you or prepare it so you can take it to your own taxidermist. New beginning in 2017 we will have a meat processor at camp that can processor your meat and ship it to you, he will have samples of products available at camp for you to sample.
I have had a husband a wife hunting party the past 2 years that hunted Wyoming with outfitters for 11 years and never killed anything over 14 inches. We showed them 15 inch antelope and up all day long.
Children are allowed to hunt in New Mexico as long as they have a Hunter Safety Card.
If you are interested in our New Mexico pronghorn antelope hunting with us, please contact us.
PRONGHORN ANTELOPE HUNTING RATES (All Inclusive) plus tax
$3,500.00 per hunter for 2 hunters to 1 guide package
$3,800.00 for 1 hunter to 1 guide package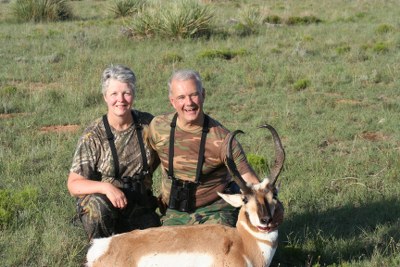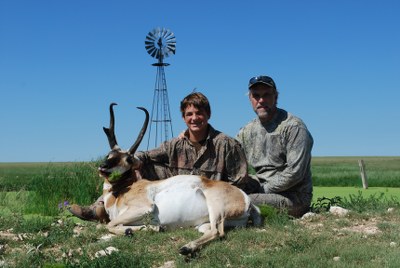 What is included: Landowner Tag, Hotel, Meals, Guide, Trophy Care, All Hunting Licenses at $400 and lots of smiles.
Itinerary
Arrive Friday afternoon before 3:00 PM check in to hotel meet me and finalize contract
Go to the gun range with guides to check if gun shooting good.
Possible drive through by the ranches we hunt if time permits
Guides pick you up for breakfast then it's off to go hunting
Dinner at our house
Sunday guides pick you up and hunt again if needed.
Basic hotel and meals are provided from Friday afternoon until Sunday afternoon